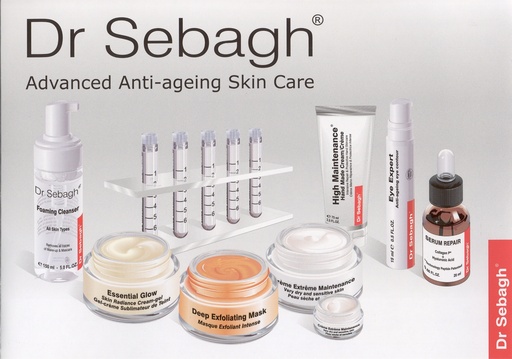 Dr. Sebagh specialist in NL
Ga voor de Dr Sebagh webshop naar www.dr-sebagh-specialist.nl
Dr Sebagh is een zeer doeltreffend cosmeceutical met bio- peptiden en andere zeer hoogwaardige huidverbeterende stoffen, geheel natuurlijk zonder parabenen. Specialistische cremes voor anti-aging en acne behandelingen.
De praktijk van Dr Sebagh in Londen en Parijs zit bomvol. Een enorme wachtlijst van maanden. Huidspecialist Jacqueline Rosenberg is getraind door Dr Sebagh voor Nederland.
Behandeling van 60 minuten door Dr Sebagh specialist in onze huidpraktijk € 69.- www.uw-huidspecialist.nl ONS ADRES
BESTELLEN VOOR THUIS? Klik
om direct alle producten van Dr Sebagh te bekijken en over de werking per product te lezen in onze beauty webwinkel.
BEAUTYBEHANDELINGEN:
* Rimpels weg
* LED licht therapie
* Acne
* Afvallen
* Cellulitus
* Home Skin Roller
* AHA peeling
*Zuurstofbehandeling
* LBF Cremes
* Hyaluron Serum
* Make-up & hair
* Huidvitaminen
* Dr Sebagh
* Injectables
CONTACT + ADRES
Dr Sebagh is a world famous skincare expert who has treated some of the most famous faces in the world. His range of targeted, highly active products work to treat and restore skin problems such as acne and wrinkles for a glowing complexion.
To get clear results for problem skin, try the Dr Sebagh Breakout Foam Cleanser, and for fine lines, it's got to be the Eye Expert. His advanced anti ageing skin care includes the worldwide bestseller, Dr Sebagh Deep Exfoliating Mask.